2018 has been a great year at SWS UK, and it's thanks to our distributors and installers that we've had such
a successful year. From new product launches to charity fundraising and events, it's definitely been a busy year!
Just take a look at the results of some of the things we've been up to this year…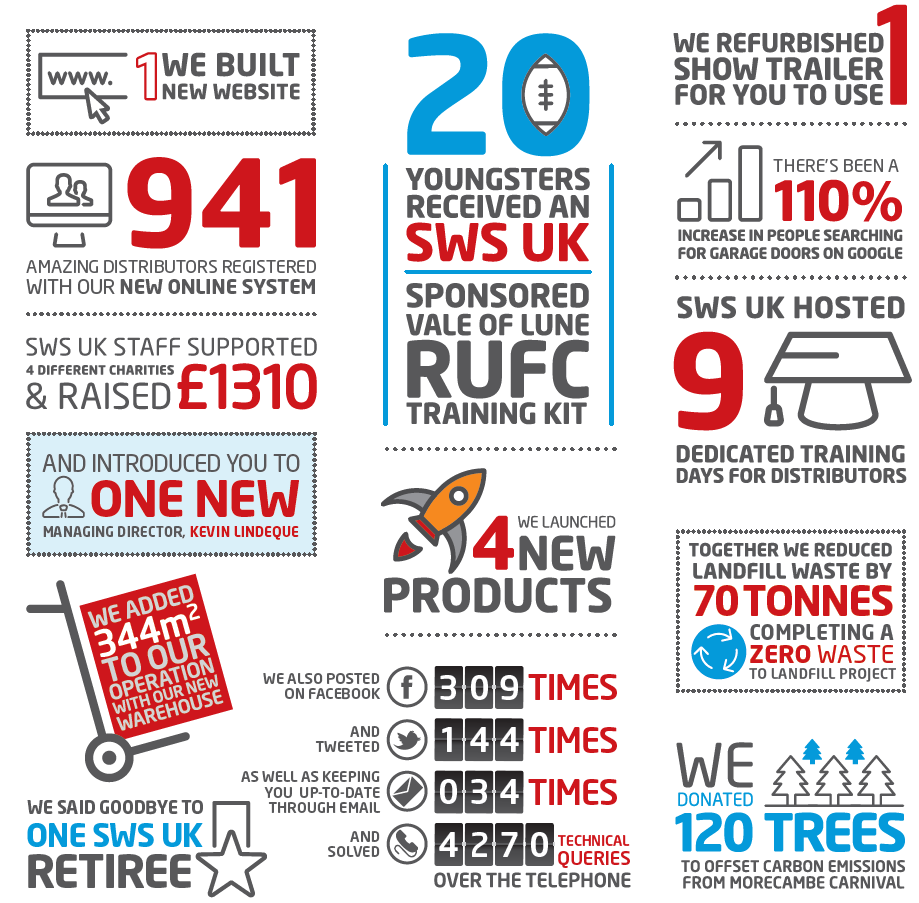 Throughout 2018 our focus has been on supporting you as our distributors in various ways. Some of the things we have done include appointing two new Business Development Managers to offer more support to installers, hosting more SeceuroSchools for you to learn about the different products in the SWS UK range, as well as rolling out our online ordering system to make it even quicker and easier to place and track orders.
All We Want for Christmas Is You (To Be Successful)
You probably recall receiving notifications and emails from the past year introducing you to our new products and those that we have enhanced to make it easier for you upsell to your customers. Our SeceuroDoor 7502 (the updated version of our 75 and 7501) has been awarded a Level 2 security rating, and our SeceuroDoor 9501 Industrial Door has also been through our Product Development team for enhancements so that it passes the Level 1 Security Rating.
Step into Christmas…
Throughout the SWS UK team, we've had some notable and long-serving members of staff moving positions due to their expertise; notably Kevin Lindeque became our Managing Director after 17 years within the business.
We've also spent a lot of time becoming more involved with our local community and raising money for charities, including Breast Cancer Now through our Wear It Pink day.
Let it Snow! Let it Snow! Let it Snow!
So, all in all, 2018 has been pretty jam-packed, and we hope that you've had a busy 2018 too! Looking forward into 2019, we have a whole host of new products to help you grow your sales.
With advancements to our existing range, as well as the addition of brand-new patented products (keep your eyes peeled!), 2019 is set to be a great year for you to expand into markets you may not work with at present, enable even easier fitting and cater to different requirements with the most advanced security products on the market.
We have plenty more events, products, and training days for you to look forward to, and we hope that you're just as excited about the year ahead as we are.
That's A Wrap!
I'd like to take the opportunity to thank you all for your continued support in 2018. As you can see, we have a very exciting year ahead of us!
Best wishes,
Kevin Lindeque, Managing Director
December 19th 2018 : 16:07