SeceuroGuard Provides Perfect Solution for Securing Bi-Fold Doors
With most people spending more time at home, creating a safe and secure sanctuary is now more important than ever. In addition to quality locks and CCTV or alarm systems, physical security such as roller shutters and retractable gates provide both a visual deterrent and a strong physical barrier against any thieves who try to enter your home.
In this case study, SWS UK distributor Duratec Security Solutions advised their client on the ideal solution for securing three vulnerable door and window openings at their Morecambe based home.
The Customer
After a series of attempted break-ins within the homeowners local area, including an attempt on their own property, Duratec's client decided it was important to secure their bi-fold doors which, being located at the back of the property, made them an easy target for would-be thieves.
The Requirements
As well as securing their bi-fold opening, the homeowner was looking to secure a further two vulnerable openings; a first-floor bedroom and their home office. Whilst security remained their primary concern, the homeowners were keen to find a solution which didn't have a negative impact on either the internal or external appearance of their stylish home.
The Solution
After extensive research, the homeowner decided that retractable gates would provide a perfect balance of strong, reliable security whilst still allowing natural light to enter their home. They liked the neat bunching of the gates when not in use, ensuring they could still maximise the living space in their extension.
Having viewed a similar product at a friend's property, one concern was that the 'X-lattice' looked too commercial. Duratec informed them that SeceuroGuard was available with a contemporary 'S-lattice' design which their client felt was much more in-keeping with their home. They were also pleased to discover that the gates could be colour matched to their existing windows, opting for white on the first-floor openings and a modern anthracite finish for the gate securing their bi-fold doors.
The Outcome
With a team of two installers, Duratec were able to fit the gates in 4-5 hours. Chris Ellison, owner of Duratec, explained that when installing products in customer's homes it was important for them to take their time, ensuring a perfect fit whilst avoiding damage to the property. Particularly applicable to this client who had very expensive floor tiles where the SeceuroGuard's low-profile bottom track needed to be installed.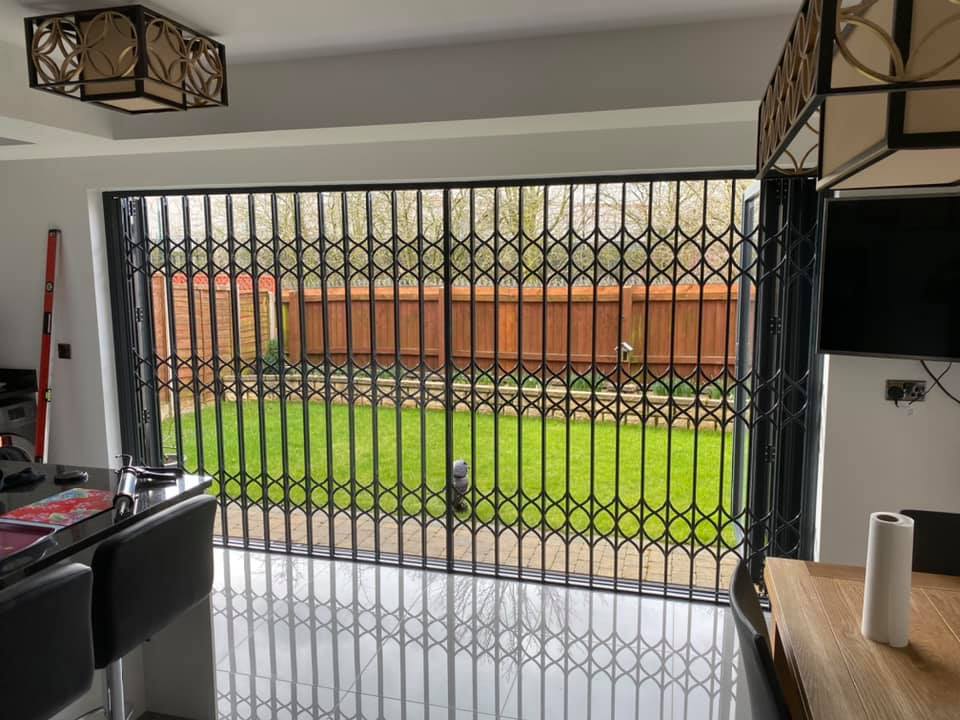 Upon completion, the client said 'Duratec Solutions and the installation was very professional. My wife and I are very happy with the product!'
So impressed were the client that they went on to recommend both SeceuroGuard and Duractec Security Solutions to their friends in Leyland who had unfortunately experienced a recent break-in.
Chris said, 'because of one prior recommendation, we have been able to help secure multiple residential properties with the SWS SeceuroGuard retractable gates, making the homeowners feel safer in their homes.'
The SeceuroGuard 1000/1001
The SeceuroGuard retractable gate system combines a modern appearance with a high level of protection, ideal for homes or workplaces. Available with an LPCB insurance-approved security rating, plus the police preferred Secured by Design specification, SeceuroGuard can be powder-coated to any RAL colour and is available in unlimited widths when supplied in sections.