Scottish Summer House Secured with SeceuroShield 38 Roller Shutters
Glasgow based distributor Aardee Security Shutters Ltd, completed  this attractive summer house with the installation of two SeceuroShield 38 roller shutters. 
Designed to look like wood panels, the summer house is in fact constructed using strong steel, resulting in a robust construction ideal for the Scottish climate. Despite being triple glazed, the owner wanted to ensure the glass windows had added security during times of high wind and rain, and contacted SWS UK distributor Aardee Security Shutters Ltd to offer a solution.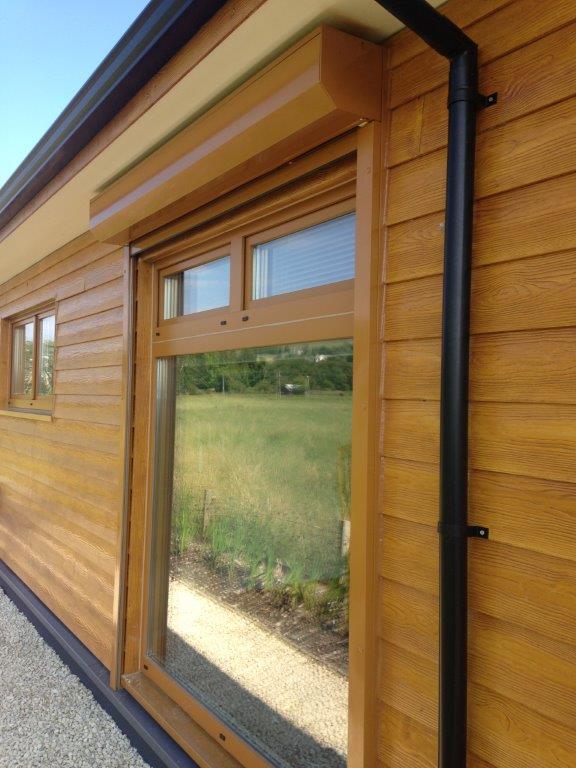 After inspecting both the site and the position of the summer house, Aardee Security Shutters Ltd advised their customer that aluminium roller shutters, SeceuroShield 38 would provide durable protection from the weather and enhanced security during the winter months. Aardee Security Shutters Ltd also recommended the addition of windlocks which have been designed for use on roller shutters subjected to high winds. Opting for convenient electric operation, the customer chose the Golden Oak finish which was a near perfect match to the grain used on the steel panels. 
Upon completion, Aardee Security Shutters' customer expressed his delight with his newly installed shutters, stating that the discreet, yet robust design was exactly what he was looking for. 
SeceuroShield 38
SeceuroShield 38 is our best-selling roller shutter and is popular across both domestic and commercial applications. The extruded aluminium profile allows for a a strong roller shutter which can span widths of up to 4000mm. Available in a large choice of powder coated finishes, the versatile SeceuroShield 38 can also be mixed with SeceuroVision where partial see-though slats are required. Click here for more details.