We're extremely excited to announce the launch of a brand-new SeceuroGlide Garage Door website, www.seceuroglide.co.uk. The new, consumer-focused website is SWS UK's latest investment in digital marketing and follows a succession of other digital projects designed to highlight the SeceuroGlide difference.
Designed and created by an expert web design agency and SWS UK's Marketing team, the new site is the perfect platform to showcase the SeceuroGlide range of roller, sectional and side-sliding garage doors. The visually stunning site is aimed 100% at end-users and provides visitors with simple yet informative information on the features and benefits of SeceuroGlide Garage Doors.
Clearly laid out pages and simple navigation have been cleverly designed to support the visitor in easily finding the information they are looking for. Or, for visitors who are not sure which garage door is right for them, the design has been structured to easily compare all options to determine which one most suits their garage and their requirements.
Pioneering Door Designer
Perhaps most exciting is the website's innovative garage door designer. This new tool goes one step further in helping homeowners decide their preferences in garage door type, style and colour. Even better, users can upload a photo of their own home to instantly visualise how their new door will look. Step-by-step instructions make it easy to use and give homeowners the opportunity to explore the full range of SeceuroGlide Roller, Sectional, and Side-Sliding doors. Once finished, users can choose to save, share or print their favourite configurations or submit an enquiry to be provided with the details of their nearest approved installer.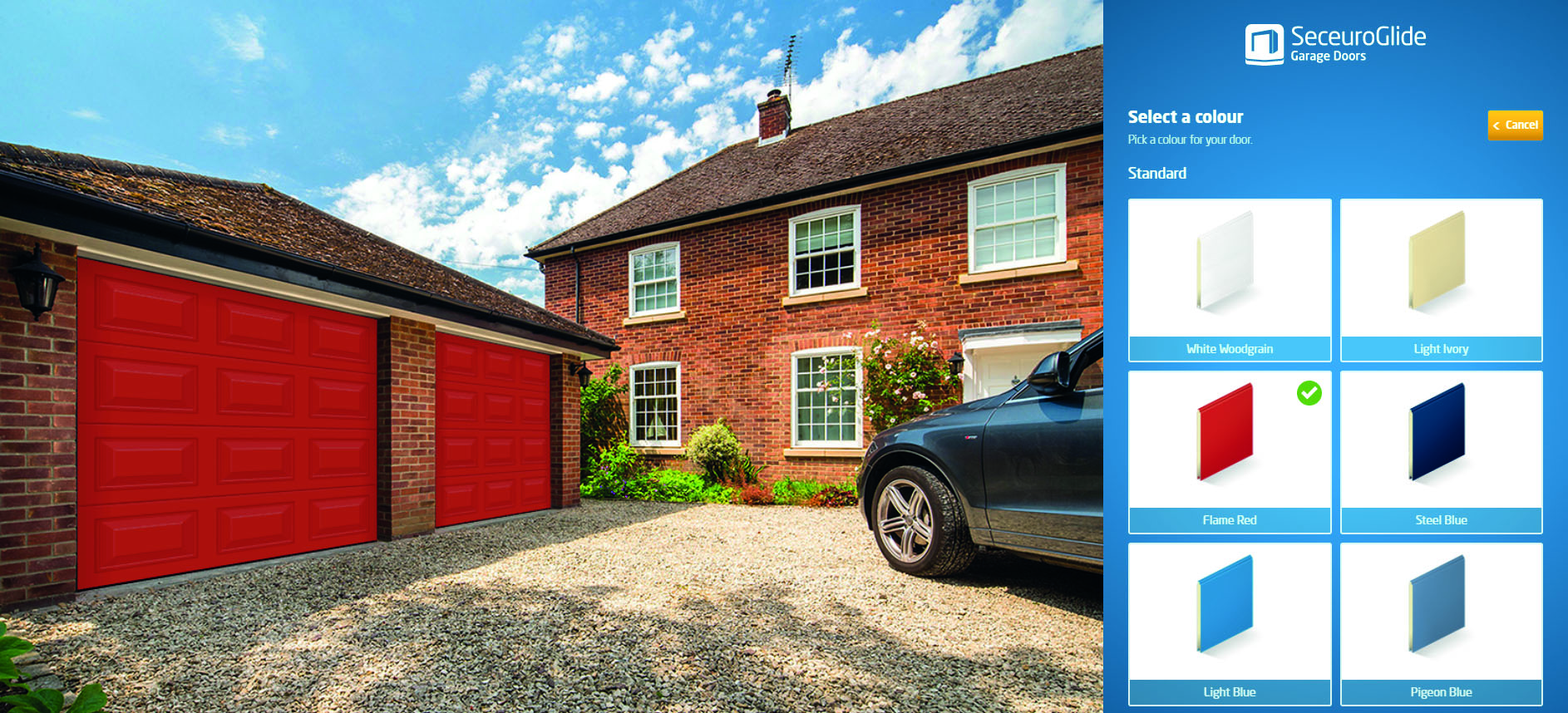 Seeing is Believing
As more and more consumers seek out video demonstrations, the website is the ideal home for SWS UK's growing catalogue of product videos. Animated videos of our most popular garage doors; the SeceuroGlide Excel, SeceuroGlide Original and the SeceuroGlide Elite Sectional can be found alongside a professionally shot 'attack demonstration' of our most-secure garage door; the LPCB approved Excel.
Distributors have praised the videos, stating that a visual tool has been a 'game-changer' in explaining the difference between SeceuroGlide products and cheaper alternatives. Whilst already a hit with distributors, we hope the new SeceuroGlide website will ensure more homeowners see the videos, therefore helping them make an informed decision when looking for a quality product in the complex garage door market.
'The new website is a project we've been keen to do for some time' comments SWS UK's Marketing Manager Chloe Wiggins, 'SeceuroGlide Garage Doors are a consumer product and consequently have a very different market to our Seceuro range of security products. A dedicated garage door website means we can build the SeceuroGlide brand but also effectively target end-users with tailored content and a user-friendly visitor experience. The website complements our latest videos to create an effective message which highlights the SeceuroGlide difference in quality, design, security and choice. It was also important that the site generates quality, qualified leads for our distributors and we're confident that we've achieved this with a seamless process that is integrated into our online and ordering portal – SWS Online'.
To visit the SeceuroGlide Garage Door website, click here.