We are honoured to have been the first company to support St John's Hospice with their annual Light up a Life campaign. Raising over £30,000 over Christmas 2020, the event is held each year by the hospice, providing the bereaved with an opportunity to dedicate a light in memory of a loved one over the festive period.
St John's, which is based in Lancaster is a local, charity-led hospice supporting a population of 250,000 people in North Lancashire, South Lakes and parts of North Yorkshire. Providing palliative care for patients with life shortening conditions, the hospice has been caring for the community since 1986.
Light up a Life is a unique fundraising event which has been held by the hospice each Christmas for over ten years. Each year, members of the community are invited to dedicate a light, either in memory of a loved one or to honour someone still in their life, in exchange for a donation to the hospice. In previous years, St John's were able to hold a sequence of events and services as part of the campaign, however, in light of the coronavirus pandemic and subsequent local restrictions, the hospice relied on the support of a local sponsor to ensure the continued success of the fundraiser in 2020.
Commenting on our support, Commercial Director Martin Fletcher says 'St John's Hospice is a charity that has touched the lives of many, including some of our own employees, so we were delighted to be given the opportunity to show our appreciation as the sponsor behind 2020's Light up a Life Campaign.
The success of the event is testament to the dedication and hard work of the hospice employees who managed to raise such an impressive sum, despite the challenging circumstances of 2020. It has been a privilege for SWS UK to be associated with St John's and Light up a Life.' 
Virtual Service is a Success
In addition to the light dedications, which included a special outdoor display in the grounds of the hospice, the Light up a Life event also incorporated a virtual remembrance service, which took place in December and provided people with a further opportunity to reflect and remember someone special.
Despite being the first event held in a virtual format, the hospice was overcome with support from the community, with the service being viewed 4,500 times. Comparing this to their usual physical events which are attended by approximately 500 people in total, the virtual event far surpassed the organisers expectations. With 712 individual donations and well over 1000 handwritten dedications, the virtual service was able to reach a much wider audience and was described as a phenomenal success.
Event Strikes a Chord with SWS UK
Not wanting to be just a financial supporter, SWS UK embraced the message behind Light up a Life, taking the opportunity to dedicate lights in memory of employees who are sadly no longer with us. In addition to in-house raffles and fundraisers, we involved our employees in setting up a lit-up display within our head-office grounds which acted as a visual reminder of our backing and commitment to the campaign.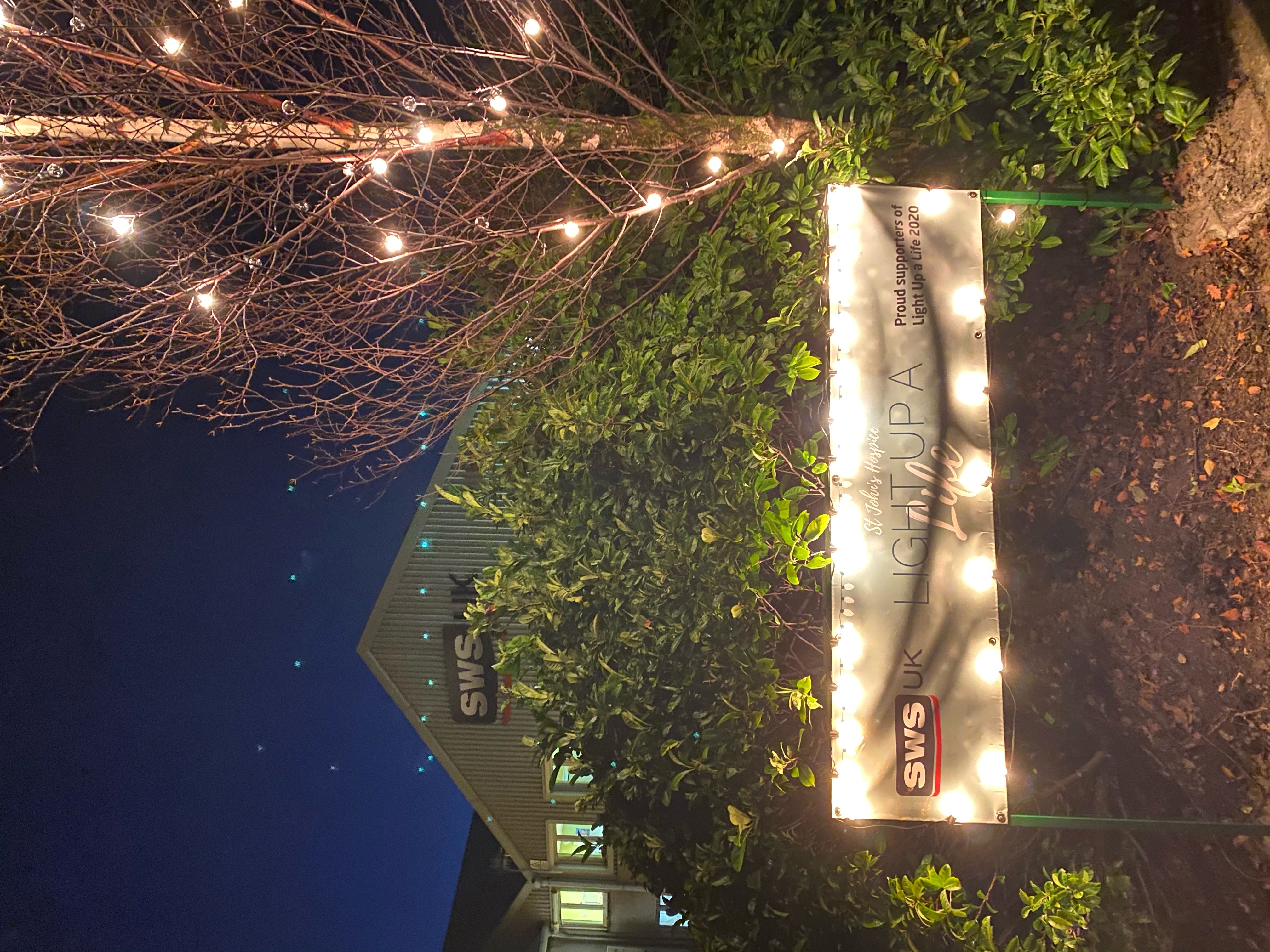 Making a Donation 
The online virtual celebration can still be viewed by visiting https://www.sjhospice.org.uk/event/lual2020-online/
Donations can be made to St John's Hospice here https://www.sjhospice.org.uk/fundraising/