We're extremely excited to be introducing a brand new SeceuroGlide roller garage door brochure for 2021. We listened to the valuable feedback of our trade distributors and conducted market research which assisted us in creating a standout brochure, that, through the use of striking imagery and an informative narrative promotes the benefits of roller garage doors whilst highlighting the quality, design and engineering behind the SeceuroGlide brand.
We've included clear details on SeceuroGlide's unique features and the extensive engineering behind every door, with the intention that the new brochure will become a useful tool in highlighting the 'SeceuroGlide difference' to the customers of our distributors.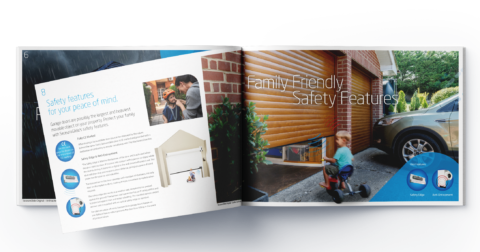 Designed to easily guide the reader in choosing the best SeceuroGlide door for their property, the new layout has multiple feature pages which clearly highlight SeceuroGlide's safety, security, insulation and design properties.
In addition to a dedicated page for each roller garage door, we have also designed a concise overview which clearly summarises the features and requirements of each product.
What else is new?
Stunning new images across the entire range of SeceuroGlide roller garage doors
Clear, concise details on SeceuroGlide's unique features
The benefits of an insulated garage door
Dedicated section on options, accessories and customising the door
A strong message on the importance of conformity and CE marking
Requesting a Brochure
SWS UK's distributors are invited to contact their Account Manager to request a stock of brochures for their showrooms and Sales teams. A digital copy of the new SeceuroGlide Roller Garage Door brochure can be downloaded here.